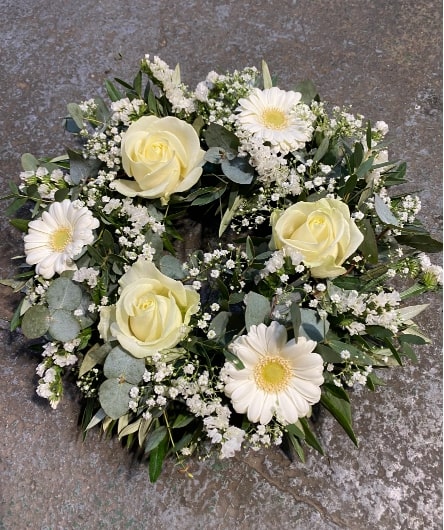 Our collection of sympathy bouquets or floral tributes are available to order online. Alternatively, if you would like the style shown in the image but in different colours or with a slight alteration please telephone the shop and we can take your order on the telephone and tailor your choice to meet your needs.
Sympathy flowers can be delivered Island wide to your chosen address and floral tributes can be delivered directly to a specified Funeral Director according to your needs.
Sympathy bouquets and floral tributes with islandwide delivery.
We offer a personal service for funeral flowers where we can either meet to discuss with you at the farm shop or speak with you on the telephone to discuss your personal requirements for the flowers for your loved one.
We have extensive knowledge and experience in carefully creating bespoke funeral flowers and floral tributes to your needs and liaising directly with the chosen Funeral Director to organise delivery of the flowers to the Funeral Home.
If you would like to meet with us to discuss funeral flowers please telephone us we will arrange this with you.